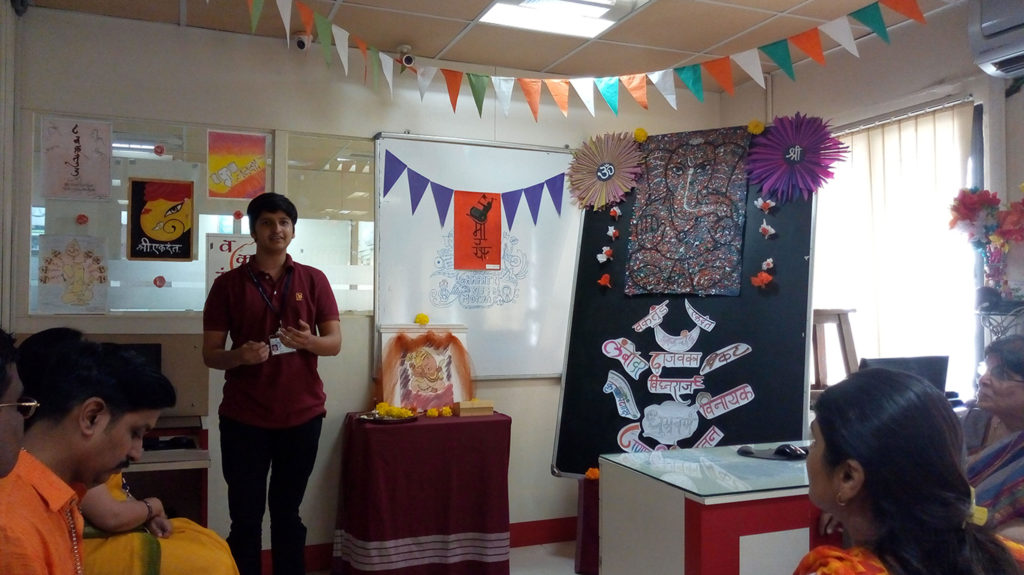 The Ganpati Pujan and Poster Exhibition program held on Wednesday, September 19, 2018.The program was arranged for celebration of Ganpati festival by Software department. The program started with arrival of our Director Prof.Seema Bapat and HODs.
Introduction was given by DGDA-I class representative Niranjan followed by the Deep Prajwalan. This was followed by ATHARVASHIRSHA Pathan by all students and faculty members. After ATHARVASHIRSHA Pathan, all had a walk through the Exhibition and appreciated the Student creativity. After Exhibition Visit, prudent speech was given by Shaligram Madam, Kale Sir, student – Ms. Gayatri, Director-Bapat Madam and Kulkarni Sir.
Mrs. Shaligram explained the idea behind the exhibition which helps in bringing up the hidden talent within the students. She congratulated the students for their participation and for drawing wonderful pictures of Lord Ganesha in a totally different form. She also put a thought  to send handmade greeting cards made by our students to our brave soldiers on the border as a token of gratitude towards them.
Shri. Amol Kale appreciated the uniqueness of the event which gels together the creativity along with vedic stotras.  He also explained the Atharvashirsha Pathan and its importance during education which helps the concentration and peace of mind by chanting the stotras. He also announced the theme "Navrang" for the upcoming event "Navaratri."
One of the student Ms. Gayatri spoke on behalf of all her classmates. She appreciated the uniqueness of Ganeshotsav celebration. She shared her experiences while drawing Ganesh posters. The theme was to draw Lord Ganesha in typography using one of his names. Drawing in typography form was a difficult task and it enabled all of them to think on a different level.
Prof. Bapat Madam had guided on advantage of using technology in bringing out the creative side of students. This will help in technological upbringing of students and will help to cope up with current technological trends in creative field. She had shared an experience of herself in Team building and collaborative working to students.
Lastly, Mr. Kulkarni Sir had appreciated organizing committees hard work and efforts put in, to make the event successful. He declared a new initiative of "Lantern and Gift Making" by students and same will be put on sale by the institute. The Profit earned by selling the gift article will be distributed amongst the tribal people as a responsibility towards society.
The Program concluded with Ganesh Aarti and Prasad distribution.