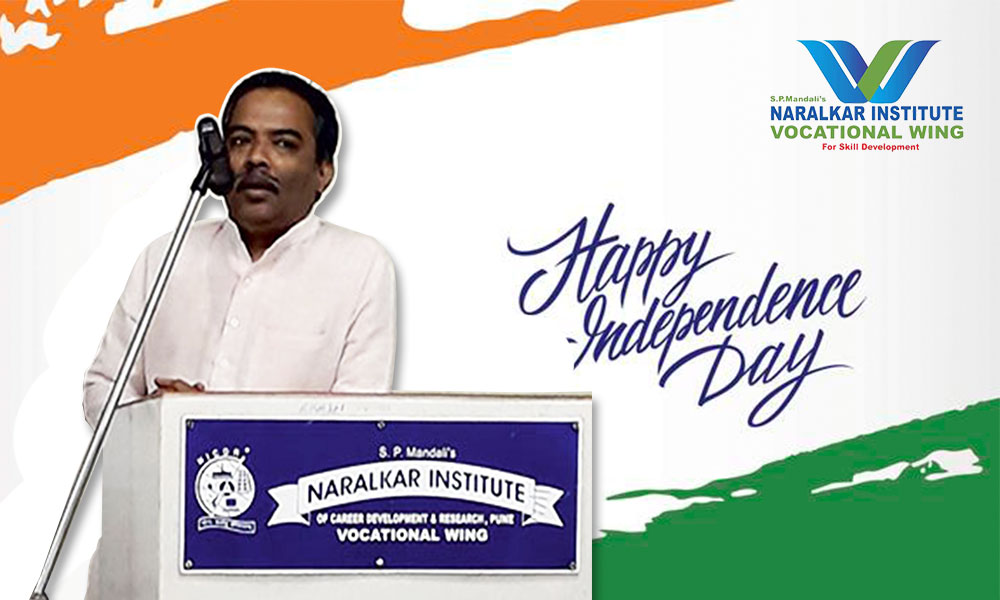 Freedom in the Mind,
Faith in the words …
Pride in our souls …
Let's salute the nation on this auspicious day.
The day of great pride and glory for every Indian, the 72nd independence day of our nation was celebrated with great enthusiasm and respect at Prin. N.G. Naralkar Institute. The ceremony started at 7:30 AM on the terrace of the institute. Students decorated the institute with colourful rangoli, buntings, balloons, sketches, drawings, posters on the subject, Independence day and freedom fighters.
This year Adv. Yogeshwar Anant Ghogale, Director, Demos Foundation was the Chief Guest of the Program. To Commemorate the sovereignty of our nation, the Chief Guest unfurled the tricolor flag and all in unison sang the National Anthem and expressed the joy of our freedom.
The program then followed by the small gathering in the class room.
Adv. Ghogale delivered a speech on "Swatatrya, Samata and Bandhuta". He explained the importance of "Swatatrya" and the sacrifices of our people. He said that 'Akhand Bharat' is  already divided into many  part like India, Nepal , Srilanka,  Pakisthan and Bangaladesh and now if we do not take this matter seriously , it will be further divided into many more parts. He has recited many shlokas in Sanskrit and explained meaning of them. According to him, Samata and Bandhuta are the mantras  to stop the chaos. Concept of reservation should be changed. His  speech  was full of  patriotic zeal and fervour.
The Director, Prof. Seema Bapat delivered the short speech. She proposed vote of thanks to the Chief Guest for his inspiring speech. She said that our independence was hard fought and the British ruled over our lands for a long time. Thousands of soldiers have sacrificed their lives while protecting the Land and while fighting for Mother India.  She asked the audience whether we really deserve to enjoy the precious freedom. 'Committing suicide for reservation or job' cannot be solution for any problem.  Change is necessary in our current system. Our youth will find out solutions for the various problems, we are facing today.  At the end once again she thanked the audience and the guests.
The program concluded with the National Song, Vande Mataram, evoking the feeling of patriotism among all present. In the end of the ceremony, sweet-balls (Pedhe) were distributed .  The Independence Day has a great importance in every citizen's life. This day reminds us every year that freedom is sacred and citizens must do everything to ensure that it shall not be endangered.