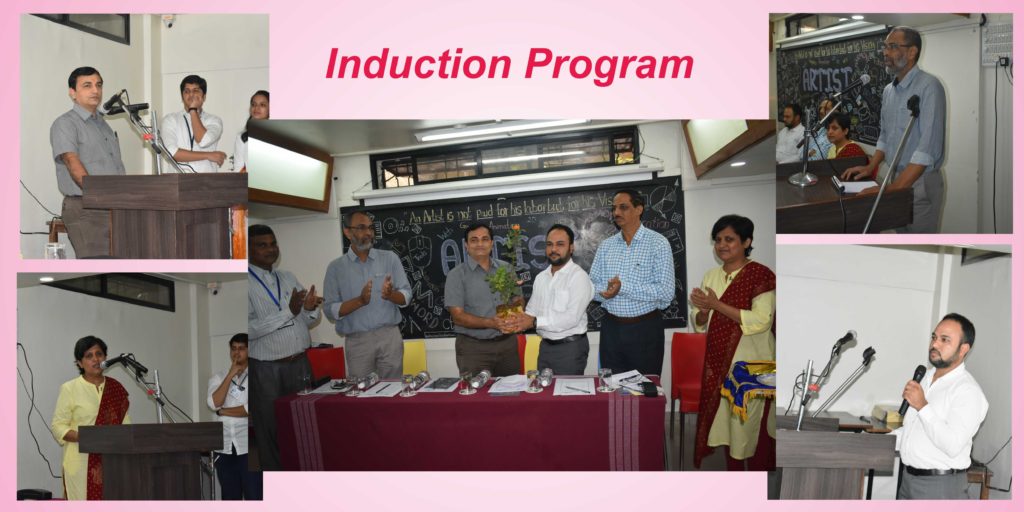 Department of Computer Software organized an induction program for the fresh entrants to Graphic-Web-Animation courses. The objective of this program was to acclimatize the students to the new environment and get them acquainted with the institution culture. The induction program comprised of interesting talks like Industry expert guidance, Entrepreneurship direction, etc. The rationale for induction was to give a bird's eye view about various dimensions of this field and the career opportunities for the students.A total of 100 students participated in this program which was conducted on 18th September 2019 at 11 am. The program began with the welcome of guest followed by Ishastawan. First year student  Ms. Kajari sang Ishastawan to invoke the blessings of the Goddess of Enlightenment. The opening speech was delivered by HOD Mrs. Supriya Shaligram. She briefed about the Institute, Department and courses.
Director Dr. Mahesh Abale, in his welcome speech told about the importance of program and skill development courses. He motivated students for the entrepreneurship and stated that do not become job-seekers, instead grow into job-providers. His speech was followed by Deep-prajwalan by the auspicious hands of the dignitaries on dais.
The first session was started by the speaker, member of world Wide Beta Testing Forum of Corel Corporation, and entrepreneur Mr. Anand Dixit. He enlightened the gathering with his words on how his dedication & efforts that is been use to grow his career as a successful entrepreneur. He stated that everyone must first talk with computer and further he guided how to use the software knowledge vigorously to make a place in graphics industry. He inspired the students to brainstorm ideas that could help contribute to the development of students as an Artist. 
The next session was by the multitalented and vivacious speaker, founder & director of Aroha Media Pvt.Ltd. Mr. Amit Dhamdhere. He guided students about his journey of accomplishments in the life. In his lucid, amusing, connecting narration, he shared the knowledge about industry production pipeline through a 2D animated film. He explain the Pre-Production, Production, & Post-Production processes which has been used to complete an animation film.
The talk ended up with 30 minutes of question and answer session which provided the students an open platform to share their views and get broad idea about their career. The sessions were well received by the students.DGD student Ms. Amruta delivered the speech of gratitude in the very well said words. Ms. Kajari form the class DAV-1 concluded the program by pleasing Pasaydan.