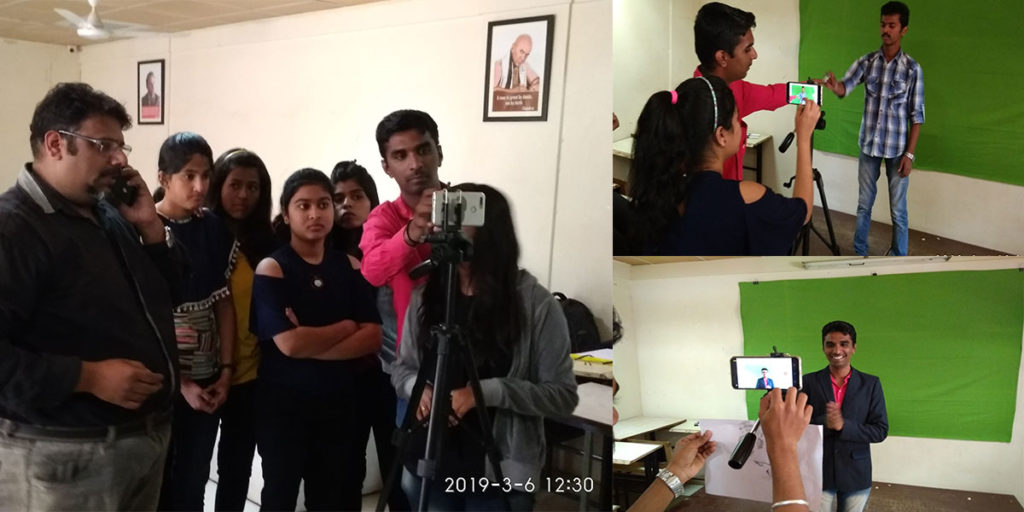 The Department of Computer Software organized two day Workshop on "Green Screen Video Shooting, Screen Removing, Compositing and Rotoscoping" on 6th & 7th March 2019 for Graphic & Animation second year students. The guest speaker was Prof. Rutudhwaj Deshpande (Founder and Technical Director of SHARKFINN STUDIOS, Pune) & Mrs. Deshpande (VFX Professional)
The workshop started with the introduction to Videography & Video Production. The speaker described, how to choose the right camera for video recording. He also explained the camera specification in mobile and its settings, the Indoor & Outdoor lighting techniques, camera angles, green screen arrangement, etc. After the arrangements for a shoot, students acted on their scripts and recorded it in mobile camera with 4k & 1080px quality.
Next day, in video editing lecture he demonstrated about the green screen and VFX. He explained the use of green screen in industry, Basic introduction about Rotoscope, types of Rotoscoping.
He took the practical on recorded video & composing it into new scene. The session was totally based on the software techniques. The session started with introduction of VFX and its uses. He also shared knowledge about the rotoscope which has a wide scope now a day. Stereo & VFX are the two types of Roto industry which was explained by him.
He introduced new compositing software – Natron. Gave the information about software interface & shared some simple and awesome video techniques for beginners. Students found the workshop very interesting and knowledgeable for their career in the animation industry.